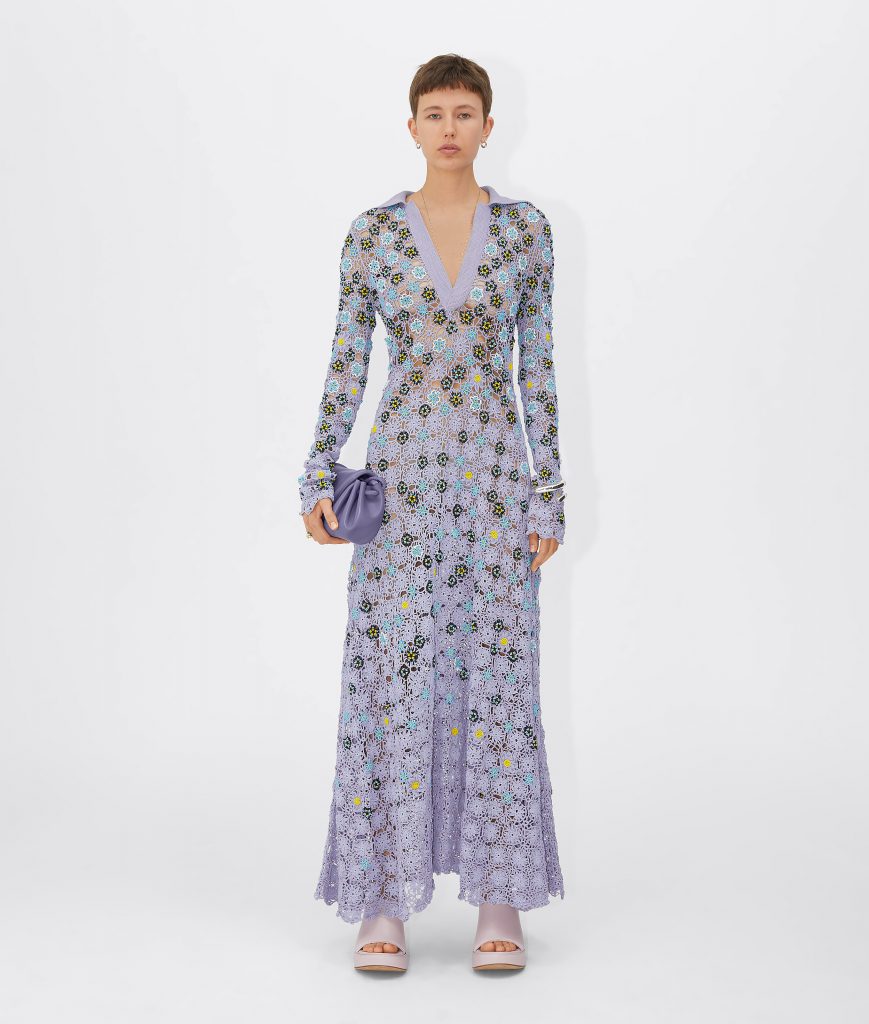 I normally only make clothes based on existing patterns. But the PatternReview.com 2021 Bargainista Fashionista contest made me challenge myself to make clothes based on RTW photos. It's harder, more time consuming, but also with a lot of fun. In the end, I felt I could get the look with much less, about $25K less money.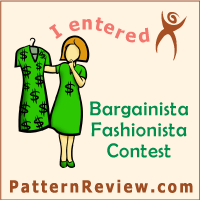 Cost list
Total cost is $235. The contest excludes pattern cost and zipper cost so that will be $8. I saved 99.9% in this dress.
Style Choice
I had the wrong impression that the one with the most saving will win the contest. So I searched the premium fashion brands I liked to see if there are anything I can DIY. I can probably write a blog about all those if there are enough people interested. Anyway, Bottega Veneta (BV) had a new designer about 2 years ago and they had some more basic style RTW. So I went there. This expensive dress caught my attention. I like this feminine style in general. I thought it'd be easy to make, so I started shopping for fabric.
Fabric Choice
I shop online at Mood Fabrics. I searched for Crochet and found this perfect pattern:
The dress looks semi-fitted so I took the risk and went with cotton. Well, partially because the original dress was made with 100% cotton too. I bought 5 yards to be sure.
Later, I was concerned that the fabric's crochet pattern may be too large to achieve that effect. I bought some Liberty of London cotton lawn with similar sized blue flowers, and also some chiffon fabric because they look amazing (and super affordable). The BV dress is actually really revealing. Chiffon can have the same effect.
If I were to do it again, I'd still go with the crochet fabric. Woven is fine to achieve that look. You just need to deal with darts and zippers or other closures.
Pattern Choice
To mimic the same look, I first contacted my sales rep at BV. Iris was very kind to send me more details about the dress. This dress was not sold in boutiques so she needed to order it to get it on hands. And I was surprised that just 1 months after its release, the extremely expensive dress was almost sold out already (and today it's completely sold out).
Anyway, to me the dress looks like a maxi sheath with deep V-neckline and a tab collar. It's not a typical collar. The tab is longer and wider than most, and the collars stopped at half of the tab. It's meant to open wide as opposed to a standard tab collar like a polo shirt. I picked a few patterns for their similar neckline, or skirt. In the end, I found M7840 has a similar collar. And V9268 has the same feel of the dress. However M7840 turned out to be a standard tab collar, just deeper and wider. And V9268 has center front and center back seams, which won't look nice with a tab collar.
I ended up choosing the Wild Ginger's PMB (Pattern master Boutique). It's a software you can use to generate your own patterns. I used the basic sheath pattern, with armscye princess seams, straight V neckline with crossover, plus a t-Shirt collar. I adjusted all their sizes according to the real BV dress – I frequented BV and the sale person was kind enough to let me see the details.
My Maxi Dress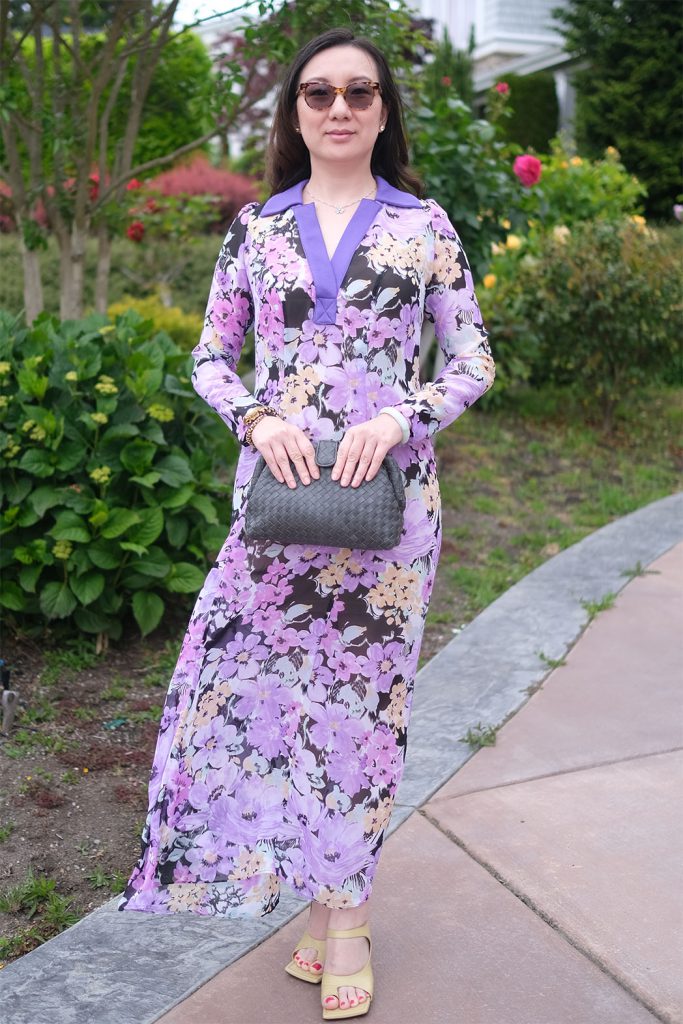 Before I dive into the details of construction, let me show you the end result first. This is exactly what I wanted to achieve: flowy maxi dress, same collar as the BV one – deep V with tab, and the collar ends at the middle of the extra wide tab. semi-fitted. Slightly longer sleeves to wear bracelet outside. You can't really see my seams here because of the busy prints. The lilac undertone is similar to the original BV one. The purple collar is in cotton lycra so it sits nicely and feels flexible.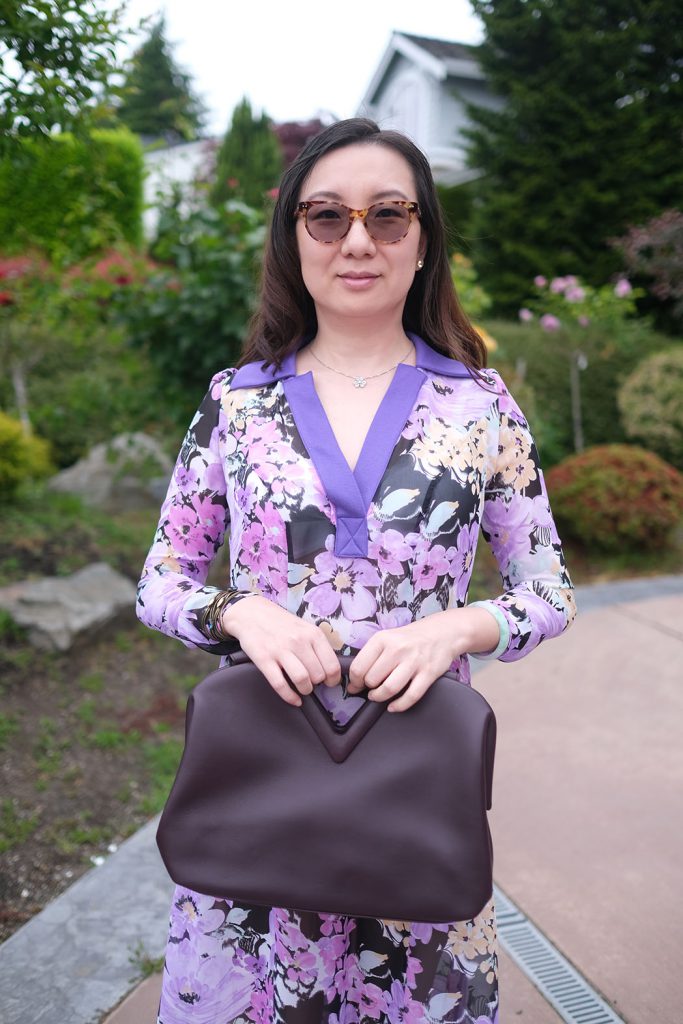 I think it can be a good cover-up dress to wear on a boat or the beach. It covers all the body that can effectively prevent direct sunburst. And it's pretty enough to be photo-proof. It's only slightly see through thanks to the print.
Some construction details
Chiffon is hard to work with. According to the All new Fabric Savvy – How to choose & use fabrics, polyester chiffon doesn't need preshrink. It doesn't topstitching on chiffon. And it suggested using narrow French seams. Counterintuitively, the book suggested using a tiny zigzag on this woven fabric. This can prevent seam from drawing up. I'm glad I read these before I made the dress, because it worked out well. And BTW this is a highly recommended fabric reference book. If you are Amazon prime and saved up no-rush shipping credit, you can basically get the book for free. But even at full price it's worth buying. It's named a Best Reference Book of 2017 by Library Journal.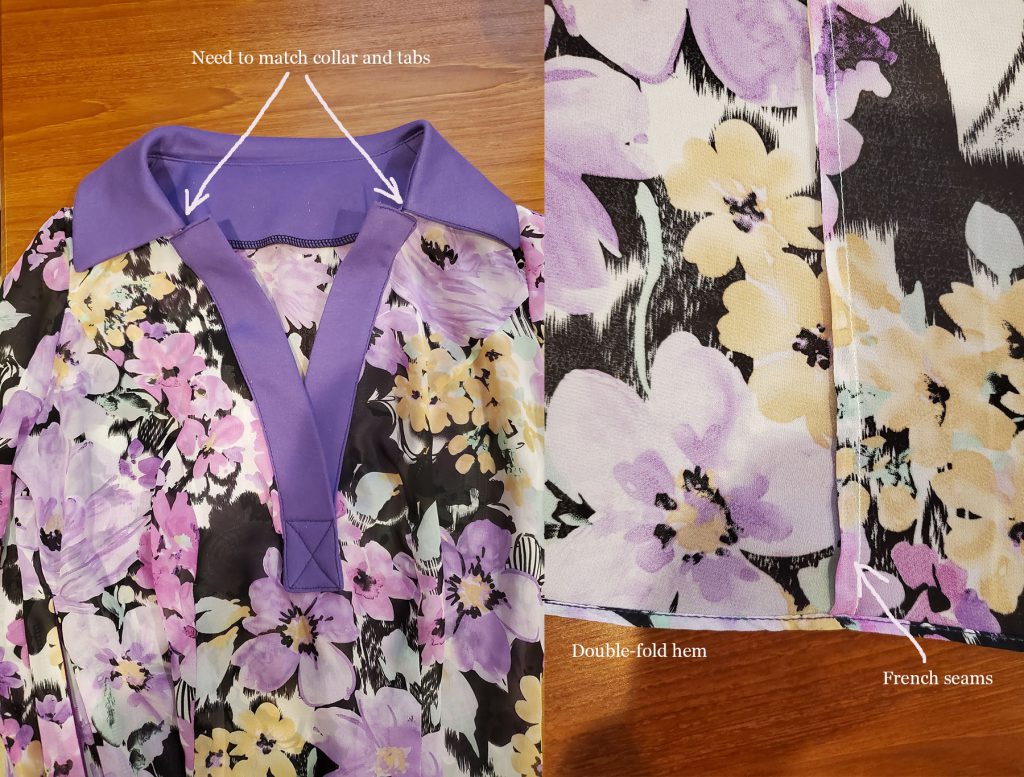 The collar is tricky to make because you need to match it perfectly. I started with a standard shirt collar generated by the PMB. I shortened it in the middle by 1.5 inch while it's still folded. I cut the tabs longer than the pattern so I have some extra to adjust the cut point. Between the two tabs' ends, the collar has facings. So I need to first connect the facing with 1/4 of the tab. Once it's turned over, the tab can then be folded to form that band. I didn't have a pattern to follow here.