Sinclair patterns has just released a new hip length zip up jacket pattern, the Juno. It's semi fitted around the bust and hips, relaxed at the waist.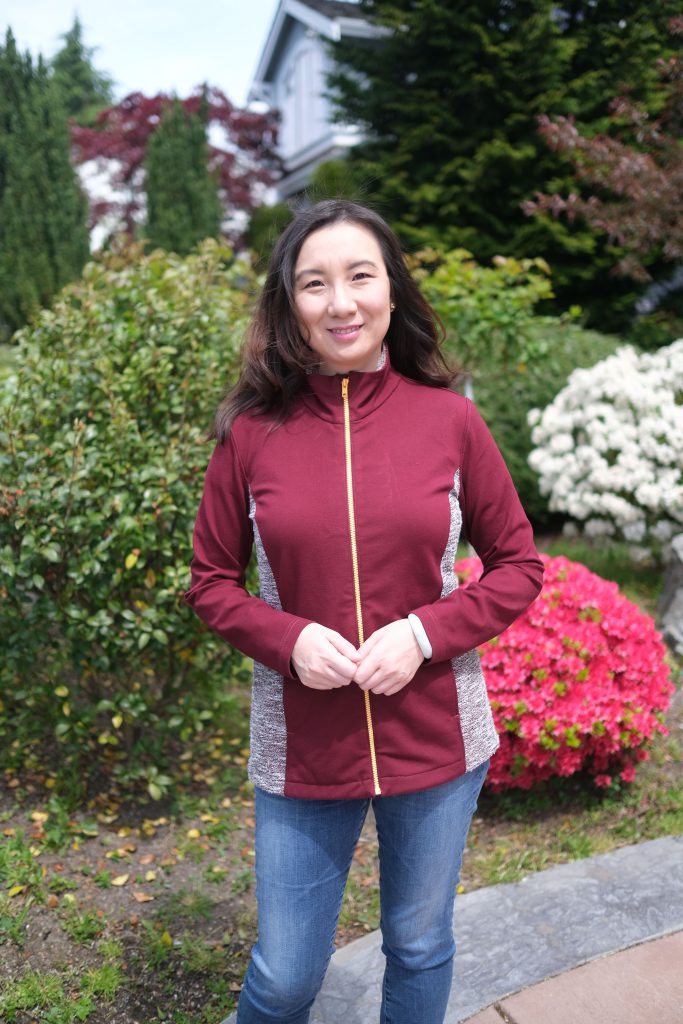 I made two, one with a side accessories pocket, the other not. Here are my thoughts about the pattern.
Pattern and cutting
The patterns provided include A4, Letter sizes for home print, A0 for copy shops, and projector files. The PDFs are layered which means you can print / project with the size of your choice. This is crucial for projector users.
Sinclair patterns have 3 height groups, Petite is for 5'1″ – 5'3″, Regular 5'4″ – 5'6″, and Tall 5'7″- 5'9″. Each of them has sizes XS-3XXL (US0-US30). Juno's difficulty is rated at 5/10 by Sinclair, which is a fair rating but I think beginners can make it too, with a few tips in mind.
One tip in the cutting step is to cut your zipper guard a bit longer. You can always shorter it later. But if you don't use some fabric with vertical stretch, or if you prefer a longer fold at the top, you'd regret the zipper guard is too short.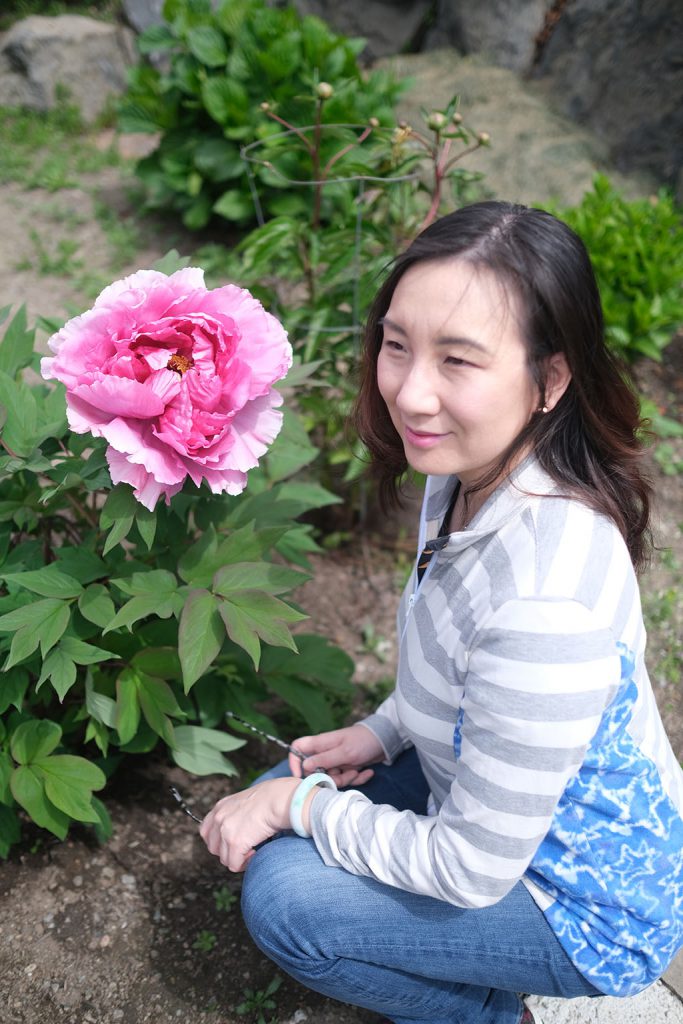 Instructions
The instruction is good, much better than most other companies out there. It's because Sinclair instructions come with photos and stitch illustrations. You can hardly go wrong. It feels as if you are watching a tutorial video, except that you can watch it at your own pace without pausing and rewinding, and you can skip steps and quickly view the part you need.
This is a intermediate difficulty level pattern though. For beginners, by following the instructions, you may still make mistakes in your first try. I summarized something I learned in the later Construction section.
Fabric choice
Medium to heavy weight knit fabrics with minimum 20-30% horizontal and 10-20% vertical stretch line Ponte, Scuba and double knits, brushed French Terry, fleece.
For beginners, I suggest you to use solid color fabrics as your main, so that you don't need to match patterns when work with zippers. Just like my red Juno.
It's very important to choose some lightweight fabric for the zipper guard. At the collar you need to switch many layers of fabric and it's best to reduce the bulk from the zipper guard one. And make sure you pick a color that matches your main or accent fabric, depending on how you'd normally wear it. For beginners please use the same fabric for your inner and outer collar. The appearance is not the problem, the stretch is. It's much easier to use fabric of exactly the same stretch on both sides of the collar. I did that with my white Juno but not the red one, so I know the difference very well.
Construction
If you follow the instruction, you will be fine for most of it. The instruction calls out to cut and install the zipper guard on the left of your jacket. The side, however, should depend on your zipper. My zipper's bottom stop is on the right, instead of the left. When I applied the left zipper guard, it feels weird to zip. And then I checked my RTW zipper jackets from Lululemon, Marc Jacobs, Valentino and Bontrager, and found they are mostly on the left, except for Bontrager which has the zipper guard on the right. But all of them have the zipper guard on the same side as the zipper bottom stop.
If you followed my suggestion and cut a longer zipper guard, remember to cut it to the right length before you sew up the second ends. That should happen after you interfaced it already, which means it's stable already. And you should match it to your jacket front to see how you like the length. And it's OK for it to be a little longer or shorter than pictured. Because you can adjust the fold length to accommodate it perfectly still.
A suggestion to beginners: choose simple pockets, leave out the accessories pocket at the back, and use straight hem. Use the same stretch fabric for inner and outer collar. Do not top stitch your sleeves (I did it by mistake).
Finally, be careful when you follow the instructions to install the zipper. In some places it called to stitch it 5/8″ from the edge using a zipper foot. If you use a zipper foot, you should position it right along the teeth of the zipper to find the perfect stitch line, instead of anchoring it against the out edge of the zipper of fabric – different zippers have different width.
Review Verdict
Rating: 4.5/5. Recommended.
The good
The jacket looks good. It can be sporty or casual. It's very practical. The jacket is designed for female figures so it looks more feminine than most jacket patterns out there for a unisex fit. I wore mine with daily dresses and they still look good.
The pattern is actually easy to make compared with other jacket patterns. Jackets in general are harder because they demand a collar, a closure, most often a zipper, and pockets. The easiest options in this pattern provide a very easy jacket to sew. And the easiest options actually make the most sense.
Simple pockets. I never zip my pockets. My jacket pockets are for my hands to rest, and sometimes to hold my phone. Without the zipper Juno can do those perfectly. I think I'd want zipped pockets on water proof jacket, but not a daily one.
Skip accessory pocket. This one depends. I made one and found the opening too small to put my hand in. It means I can't reach the bottom of the pocket to fetch small things. It can hold a small phone, but not a bigger one like the biggest iPhone. I found myself putting my phone in my front pockets even when I have it. But I still like it as a decoration there if you can find a nice looking zipper (I used an invisible one because I like its puller better).
Straight hem. I wanted to make my second one curve hemmed but still opted with the straight hem. Because I like everything about my first Juno (the white one) so much. I want my jacket to cover my clothes under fully without being too long. But the curved hem may expose some on the side. And straight hem is much easier to hem 🙂
The bad
The only reason I didn't give it 5 is the instructions about the zipper and zipper guard. As I said in the construction section, the zipper guard side should be determined by the zipper bottom side. And you'd better space your stitch relative to the zipper teeth rather than the outer edge. I got a standard YKK zipper, and one from Joann. Neither worked with the instructed 5/8″ distance from the edge.
Disclaimer
I was given the pattern for free but my review is all on my own opinions.